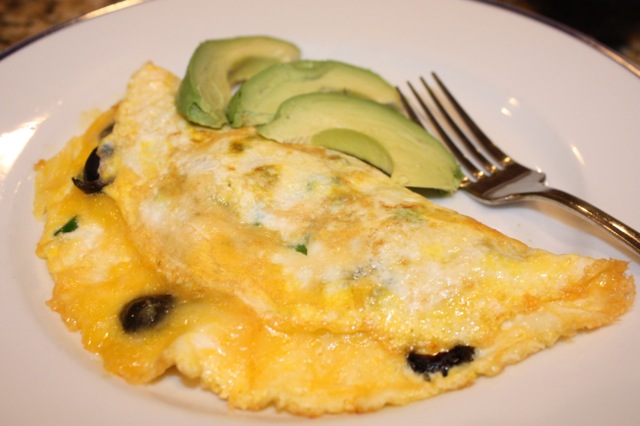 Well, I found a work around – all is not peachy on Lingonberry Lane but good enough to post…I reported on Facebook that I was unable to upload photos to the blog after a lovely winter break enjoying my family and skiing at Mt. Bachelor and an automatic 'upgrade' to WordPress.
Before the blog glitch, I was inspired this morning to make a low carb breakfast and had leftovers from a taco dip over the weekend. So I created a Tex Mex Omelette and it was quite yummy and so easy. Feel free to add chopped red peppers or other veggies if you want to create your own omelette.
Tex Mex Omelette
1 dab of butter
2 eggs, beaten
handful of Mexican shredded cheese or your choice
small handful of green onions, around 2 tablespoons, chopped
sliced black olives
Heat small omelette pan to medium heat. Melt butter in pan. Beat eggs in bowl and pour into pan with melted butter. Sprinkle cheese, green onions and black olives on top. Cook until firm enough to your liking on top. Fold over omelette style and serve with sliced avocados.
Source: Jackie Mack, Lingonberry Lane