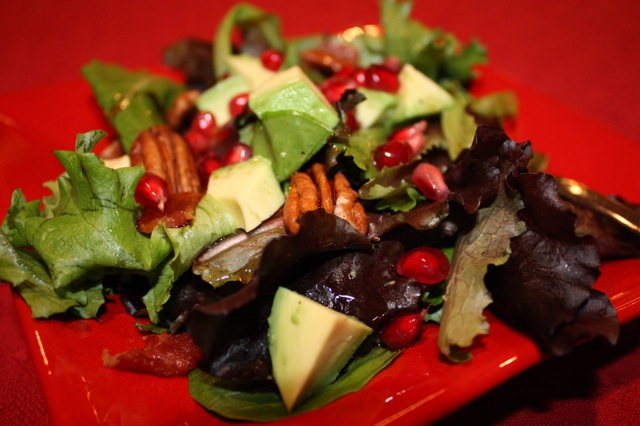 This salad has the Holidays written all over it. The inspiration is from Lauren's Latest blog and the ingredients and photo caught my eye. The key ingredient eye catcher was the warm bacon grease in the dressing……whoa. Now that's novel. And so, I bought the ingredients yesterday and cooked up the bacon last night and adjusted as needed and crumbled the bacon made the easy dressing and burned my pecans so I had to toast them again (toast on low heat BTW). But I must say I love this salad. It's beautiful full of holiday color and the undertones of bacon flavor while munching the greens and pomegranates, pecans and bonus avocado are spectacular. I do like to rave about food but this salad (not for the vegetarian minded) is an absolute winner. The bacon flavor had me thinking back to those Sunday breakfasts that my dad used to make – bacon, eggs, lots of OJ and ending with toast with peanut butter on top with leftover bacon on top of that….wow – a salad that brings back memories of bacon eating in my youth, I don't know how that happened. So, if you're serving a bacon loving crowd I suggest this salad. It's outrageous.
Pomegranate Pecan Salad
6 cups mixed greens
4-6 slices cooked bacon, crumbled
1/2 cup toasted pecans (toast on low heat until 'golden' and crisp)
1/2 cup pomegranate seeds (seeding a pomegranate + health benefits)
1 large avocado, sliced
In large bowl combine mixed greens, crumbled bacon, toasted pecans and pomegranate seeds.
Balsamic Bacon Dressing
3 tablespoons warm bacon grease (fresh from cooking the bacon)
1 tablespoon pure maple syrup
3 tablespoons balsamic vinegar
pepper to taste
Combine above ingredients in glass jar and briskly shake or whisk. Cut and add avocado to salad. Dress salad and mix well. Serve immediately. Serves 6.
Source: Adapted from Lauren's Latest.