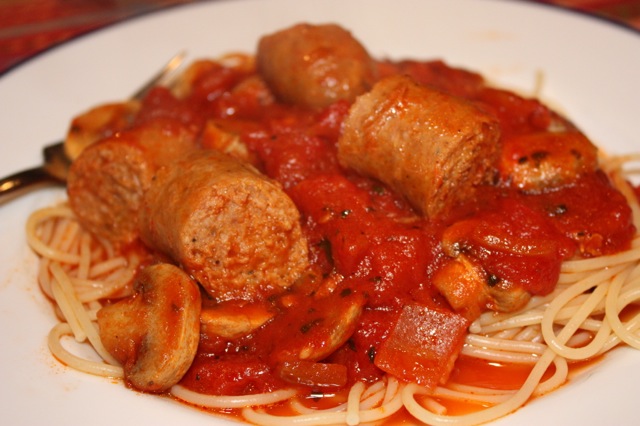 For most of my life a major comfort has been spaghetti night. Our family would ask for spaghetti for special dinners and occasions. I'm sorry that I never got my Mom's recipe written down (and I'm not sure she followed one – if anyone reading this has Carol's recipe – do share!!) but I remember her saying many times that the trick to a good spaghetti sauce is to cook it all day long…she learned that from an Italian neighbor in Boston in the 50s. So when I started making spaghetti sauce in my 20s I found a book with a good looking recipe in a cookbook called Pasta Favorites by Nancy Berzinec, that was priced at $2.95 and housed many yummy pasta recipes. I used that recipe for a base for my marinara sauce but there is one glaring detail that I never followed and that was the direction to cook the sauce for 1 hour total.  The best spaghetti/marinara sauces I've made are those that have been simmered on the stove top practically all day.  When they get too thick you simply add a little more water, stir and keep the sauce simmering on low.  By the time dinner time rolls around you have the most delicious sauce ever. You can fudge on the ingredients here and there – it's just a good sauce takes time. I'm going to give you options for this recipe for the crock pot (not as thick of a sauce but extremely practical for our busy lives), and vegetarian…which is basically everything except the pork sausage.  Take a weekend day to cook up some marinara and enjoy. Your family will love you for it.
Marinara Sauce
one extra large chopped onion or 2 cups
6 cloves garlic, minced or pressed
3 tablespoons olive oil
3 – 28 ounce cans peeled, diced tomatoes
3 – 6 ounce cans tomato paste
1 cup water
2 tablespoons sugar
1 teaspoon sea salt
1/2 teaspoon pepper
6 teaspoons dried oregano
3 teaspoons dried basil
4 bay leaves
Optional Ingredients:
2 packages (5 pack) sweet italian sausage (I used uncured with no nitrates)
2 – 8 ounce packages white mushrooms, washed and sliced
1/4-1/2 cup red wine
Instructions for stove top:
In large stock pot, saute onion and garlic in olive oil until tender. Add rest of ingredients including options if desired. Cook on medium heat until coming to a simmer, turn down to lower heat so it simmers constantly but low. Do not cover sauce completely with lid because you want the sauce to thicken and simmer down for best flavor. I put lid on pan but not completely covered so steam is released all day. Cook at least 6 hours or more, stirring occasionally and adding a small amount of water when sauce thickens too much. Add optional sausage and mushrooms about 1/2 way into your cooking time. You may choose to cut sausage into small slices before serving.
Serve with your favorite pasta noodle. Serves 10+. Lemony Caesar Salad  is an excellent side with this dish.
Instructions for Crock Pot:
Combine all ingredients in large (6 quart) crock pot. Cook on low all day. Serve with your favorite pasta and Lemony Caesar Salad. For the last hour if you are home, you could cook uncovered or lid to the side to try to thicken the sauce. You may choose to cut sausage into small slices before serving.
Adapted from Nancy Berzinec's Pasta Favorites Cookbook.