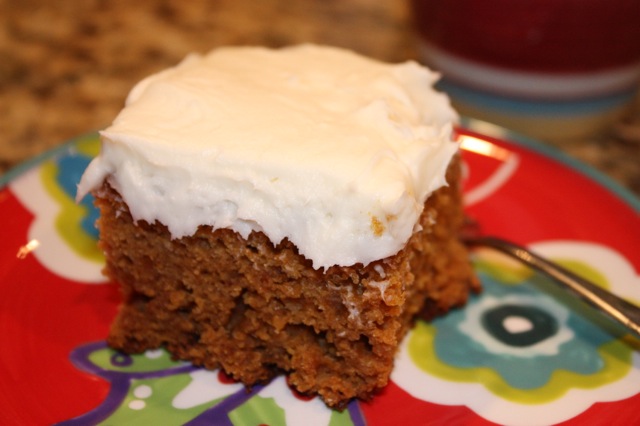 Are you bringing a dessert to a Halloween party tomorrow?  Here's one that's moist and pumpkin filled with just the right spice. I found this recipe a long time ago in the Minneapolis Star and Tribune Food section and it was called Lori Beach's Prize Winning Pumpkin Bars. I've made these bars turned cake (I use a 9×13 pan instead of a jelly roll) so many times and each time the cake is declared yummy. The original recipe called for vegetable oil and I've subbed apple sauce for it throughout the years and did this last weekend.  However, next time I make the cake I will sub the apple sauce for some good old fashioned melted butter and I expect the results to be phenomenal.
Pumpkin Cake
2 cups sugar
1 cup apple sauce (or butter)
4 eggs
1 – 15 ounce can pumpkin
2 teaspoons baking powder
1 teaspoon baking soda
1/2 teaspoon salt
2 teaspoon cinnamon
1/2 teaspoon ginger
1/2 teaspoon cloves
1/2 teaspoon nutmeg
2 cups flour
Preheat oven to 350 degrees. Combine all cake ingredients in a large mixing bowl and blend well. Butter a 9×13 cake pan. Put all batter in the pan. Bake the cake for 35-40 minutes testing cake before taking out to make sure it's done in the middle. Let cake cool completely before frosting.
Cream Cheese Frosting
6 ounce cream cheese at room temperature
6 tablespoons butter at room temperature
1 tablespoon milk
1 teaspoon vanilla
4 cups powdered sugar
Prepare the frosting in a large mixing bowl. I use my KitchenAid with great results but a hand blender would work, too. Combine cream cheese and butter at room temperature, adding milk, vanilla and powdered sugar one cup at a time. Frosting is done when well mixed and smooth. Frost the cooled cake and serve immediately. Serves 12 or more.
Source: Adapted from Lori Beach's Prize Winning Pumpkin Bars, Star and Tribune.