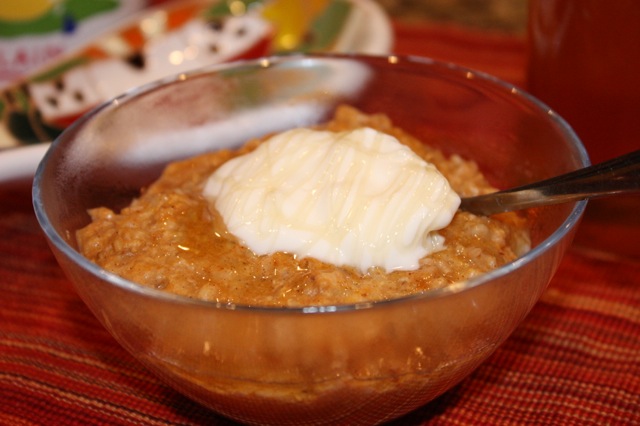 The pumpkin season is in full swing and if you've got little time to prepare breakfast in the morning and want a fall flavored treat, try this Pumpkin Steel Cut Oats adapted from SparkPeople. I cut the original recipe in 1/2 because the recipe makes A TON of oatmeal and one average sized family doesn't need a whole crock pot of oatmeal. Try this when you want to save time in the morning and serve with a dollop of yogurt, honey or maple syrup for sweetener.
Overnight Pumpkin Steel Cut Oats
At bedtime, in a crock pot combine:
1 cup Steel Cut Oats
1/2 of a 15 ounce can pumpkin
1/2 cup half and half
1 1/2 cups 2% milk
2 cups water
1 teaspoon vanilla
1 teaspoon pumpkin pie spice
Cook on low overnight about 8 hours. Stir and serve in the morning with plain or vanilla yogurt and top with honey or maple syrup. Serves 4-6.
Adapted from: SparkPeople, Crock Pot Pumpkin Steel Cut Oats