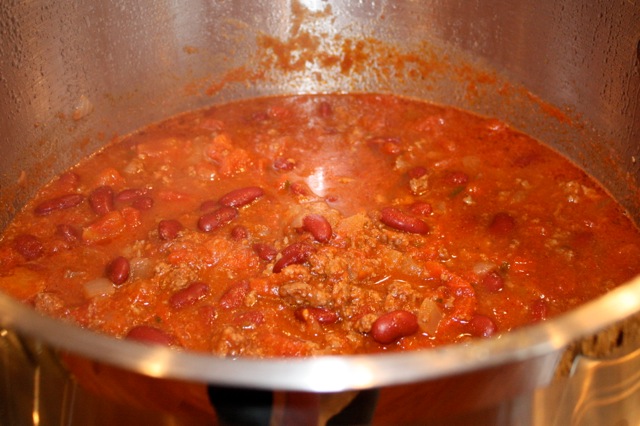 It's definitely weather for chili and a side of caesar. My daughter's soccer team came over last night for the last team dinner of the season to a big pot of chili and a rather large caesar salad. I did serve cornbread, too, but I'll admit that was from a box due the twenty something I was feeding. What fun to hear the laughter and excitement and flashing of iPhones and texting and Instagramming and Tweeting all in the midst of eating and having a good time and noone was offended that the other was looking solely at their device!
I'd say we had about 25 here last night and these recipes fed the crowd with a little chili left over. And I made 4 boxes worth of cornbread (I hate to admit that on this blog, but I did.) and there was a bit left over. Don't forget to serve the cornbread with lots of real butter and honey.
Chili for a Crowd
extra virgin olive oil to coat bottom on 16 quart stock pot (or two smaller ones)
3 big sweet onions, chopped
6 cloves of garlic, pressed or minced
4.5-5  pounds of good quality hamburger
5 – 15 ounces cans kidney beans, drained and rinsed
6 – 28 ounce cans diced tomatoes (undrained)
1 – 25 oz jar marinara sauce or the equivalent of tomato sauce
5 tablespoons worcestershire sauce
5 tablespoons lemon juice
5 tablespoons brown sugar or maple syrup
5 tablespoons chili powder
5 tablespoons cumin
Coat bottom on large stock pot with olive oil. Add chopped onions and garlic sauté a short time. Add the hamburger and cook until all meat is no longer pink and chop meat into small pieces while cooking. Drain juices from meat after fully cooked.
Add the rest of ingredients and spices and simmer on medium to low heat at least 3 hours or more. You can add a bit of water if sauce gets too thick. Serves 20+.
Source: Adapted from my sister-in-laws recipe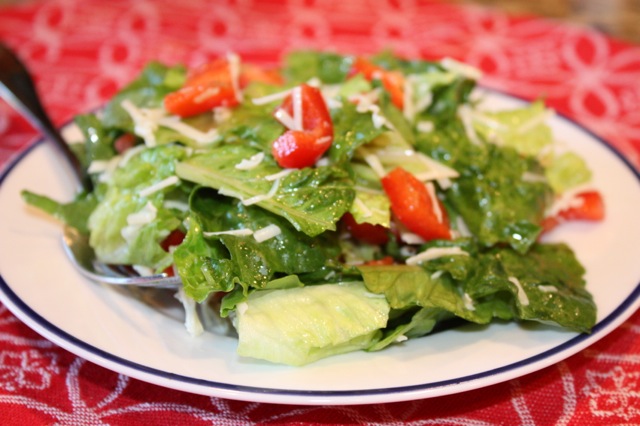 Lemony Caesar Salad for a Crowd
In a super huge salad or mixing bowl combine the following salad ingredients. Use two large salad bowls if you don't have the super huge variety.
6-8 heads of romaine lettuce, rinsed and torn or cut
3 large red peppers, chopped
parmesan cheese to taste
Lemony Caesar Dressing for a Crowd
juice of 4 lemons or 1/2 cup fresh lemon juice
6 cloves garlic, pressed or minced
4 teaspoons apple cider vinegar
1 1/3 cups extra virgin olive oil
sea salt and pepper to taste
Put all dressing ingredients into small mixing bowl. Whisk and set on counter until ready to mix with salad right before serving.
Mix dressing and salad and parmesan cheese well in a super huge bowl (or two large salad bowls). Serve immediately to 20+.
Source: Adapted from The New Basics Cookbook