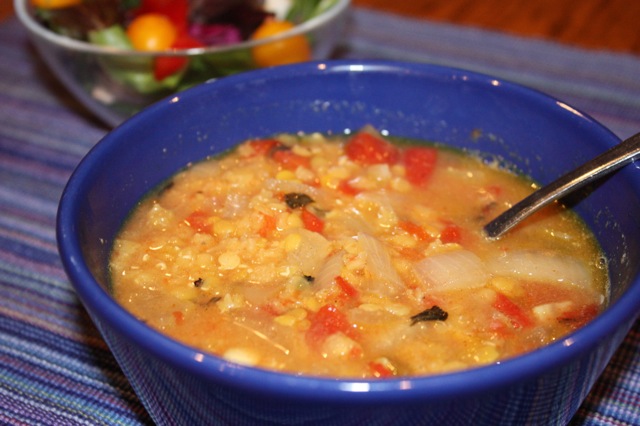 A chill is in the air in Oregon. This fall has been especially lovely and I must admit this is one of my favorite times of the year. That short snippet of time when the sun shines brightly in blue skies and the days are warm but the morning and night bring a chill for great sleeping weather. This soup recipe, adapted from My Recipes, is great for those days with a chill. The soup has many fine features as meat free, gluten free and I made the soup in the crock pot. Red lentils offer a variety of nutritional benefits including ample amounts of fiber, manganese, iron and protein. See WH Foods/Lentils for details. My daughter really loved this soup but got a few comments on the color when I put in in her lunch box. Her friends at school aren't used to the non-standard soup instead a sandwich in the lunchbox! Just imagine the looks she gets when she eats her salmon patties out of the thermos.
Red Lentil Soup
1 sweet or yellow onion, diced
4 garlic cloves, minced or pressed
1 – 32 ounce chicken broth
1 – 14.5 ounce can diced and fire roasted tomatoes with green chiles (or your favorite)
1 1/4 cup red lentils (I used red split lentils) rinsed
1/2 teaspoon ground curry powder
1 teaspoon ground cumin
1 teaspoon dried basil
Sea salt and pepper to taste
In crock pot combine all ingredients. Cook on high for 4 hours or low 6-8 hours. Serve with a dollop of sour cream on top. Serves 4-6.
Adapted from: MyRecipes.com