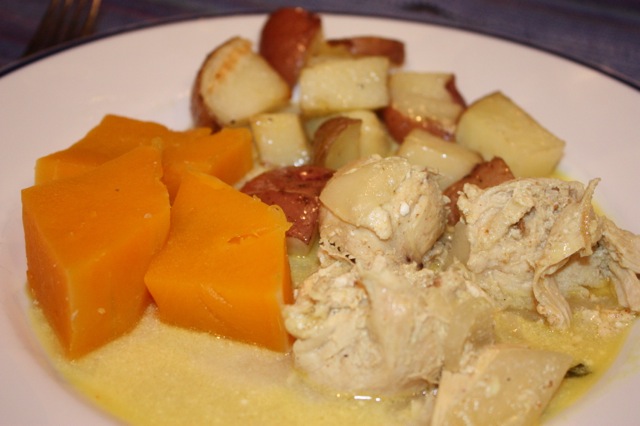 On a Sunday afternoon after doing some serious discarding/giving away of long overdue 'goods' in our home I was in the mood for a good dinner but didn't have all afternoon. I did have chicken in the freezer and a can of coconut milk on the shelf so I concocted a Coconut Curry Chicken and roasted red potatoes and butternut squash to go along with the curry. I roasted 1/2 the squash and steamed the other half (the roasted squash is the tastier of the two) although the photo above is of the steamed. The curry was creamy and flavorful and really was set off nicely with the roasted potatoes and squash.
Coconut Curry Chicken
2 tablespoons extra virgin olive oil
1-2 teaspoon curry powder (to taste)
8 pieces chicken thighs or breasts (I used boneless but bone-in would be flavorful)
1 onion, chopped
3 cloves garlic, minced or pressed
1 – 13.5 ounce can whole fat coconut milk
6-8 fresh basil leaves or 1 tsp dried basil
4 large tablespoon dollops sour cream or more to taste
sea salt and pepper to taste
In large stock pot, heat to medium add the olive oil and chicken. Coat the chicken with curry powder. Flip chicken pieces every few minutes to cook evenly.  About 10 minutes into the cooking, add onion and garlic. Depending on the thickness of the chicken, fry in oil until no longer pink. (If you used bone-in chicken remove chicken from bone). Cut the chicken into bite sized pieces in pan (unless it's non-stick). Add the can of coconut milk, the basil and cook another 15-20 minutes on medium heat. Just before serving mix in dollops of sour cream. You can use whisk or hand blender to blend sour cream well. Serve with Roasted Potatoes and Butternut Squash. Serves 4-6.
Roasted Potatoes & Butternut Squash
Red Potatoes – Cut and rinse red potatoes for your family into bite size piece.
Butternut Squash – Cut, scoop out seeds and cut butternut squash into bite sized pieces, cutting off and discarding the peel. In two – 8×8 baking dishes, put potatoes and squash (or mix potatoes and squash in a 9×13 pan). If you have too much squash for one meal, you can refrigerate or steam extra.
Add at least 2 tablespoons olive oil to each 8×8 or four tablespoons olive oil to a 9x 13 pan. Salt and pepper and coat potatoes/squash with oil and spices.
Preheat oven to 400 degrees and roast until soft and brown, stirring occasionally (about 40 minutes or until tender). Serve with Curry Coconut Chicken. Serves 4-6.
Source: Jackie Mack, Lingonberry Lane