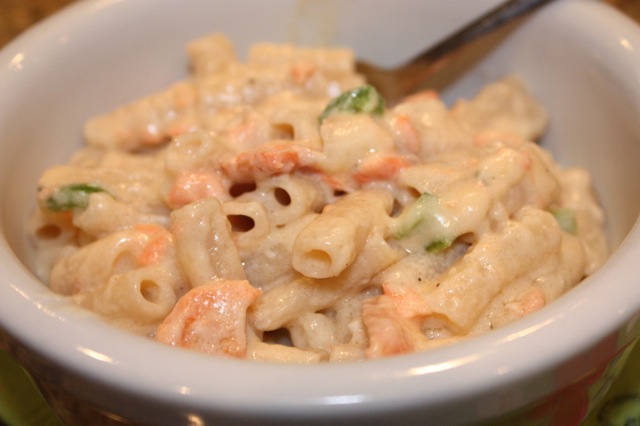 I created this recipe with a leftover filet from the Grilled Salmon with Garlic Lime Butter on Cedar Plank. I was in the mood for a creamy pasta and this is almost like mac and cheese with salmon. When I was first beginning to cook I remember my Mom saying every good cook needs to know how to make a white sauce – and I thought white sauce? Well, after some good practice from Betty Crocker's recipe I use a white sauce here and there and sometimes it works out to be a pretty good meal. The white sauce is the base of  this recipe with some yummy grilled salmon (can replace with smoked salmon), lots of cheese and jalapeño for a bit of kick. It turned out good and gooey and the family gave a thumbs up.
Creamy Salmon Pasta
1 filet of leftover grilled salmon or 1 small filet of smoked salmon, flaked into bite sized pieces
4 tablespoons butter
4 tablespoons flour
2 cups milk
1/2 cup half and half
1 cup (or more to taste) shredded cheese of your choice – I used a 3 cheese, cheddar, mozzarella, monterey jack
1 jalapeño, chopped finely
sea salt and pepper to taste
16 ounce package of pasta (rice or wheat, penne works well)
In sauce pan add 4 tablespoons of butter and melt over low to medium heat. When butter is melted stir in 4 tablespoons flour and combine into paste. To paste, add 1 cup milk over low heat. Stir often with whisk. When mixture thickens add the last cup of the milk and continue to stir often then add the half and half. When sauce is a consistency to your liking add shredded cheese, the filet of salmon flaked in bite sized pieces and chopped jalapeño and combine until warm. Mix with hot pasta and serve immediately. Serves 6.
Source: Jackie Mack, Lingonberry Lane
Meal suggestions: Serve with a Caesar salad and steamed broccoli or asparagus on the side.