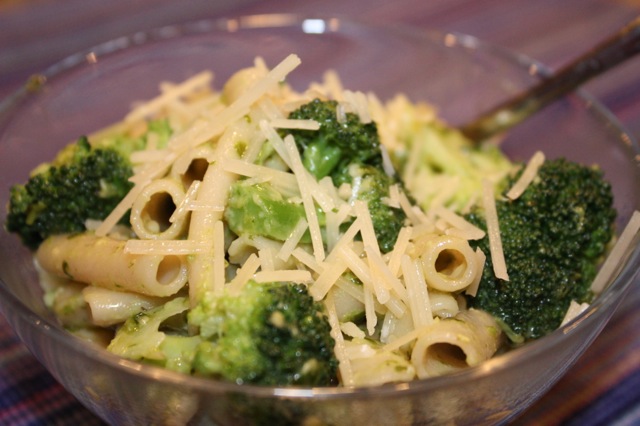 School is right around the corner and one of my daughter's favorite thermos lunches is Broccoli Pesto Pasta. I use pre-made pesto so this is an easy fix for lunch in the morning as I cook the broccoli in the same water as the pasta. I buy penne brown rice pasta and combine with the pesto, fresh broccoli and parmesan cheese for added flavor. It's a big hit in the lunch box and a nice change from a peanut butter sandwich.
Broccoli Pesto Pasta
Pasta – rice or wheat, penne works well – 1/2 of 16 oz. package
Pesto – pre-made fresh (refrigerated is best) – 4 tablespoons or more
Broccoli florets – the more the merrier
Parmesan cheese
In a medium sized sauce pan boil water to cook pasta in. Add the pasta and cook 7-10 minutes (or according to package directions).  Half way through cooking the pasta add chopped broccoli florets to pasta water. When pasta is done drain the pasta and broccoli in a colander and rinse. Return pasta/broccoli to the pan and add 4 heaping tablespoons of pesto and mix. Serve immediately (or put in a thermos) with parmesan cheese on top. Serves 4.
Source: Jackie Mack, Lingonberry Lane