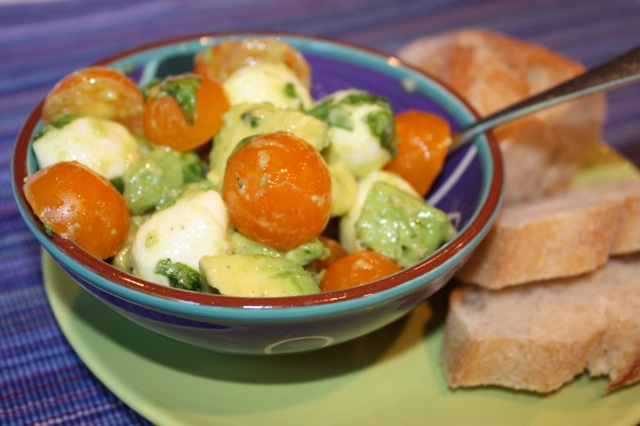 I found a link to Dakota's Avocado Tomato Mozzarella Salad and it looked so yummy I gave it a try. I must say comparing photos the salad looks totally different but it's a similar salad. Instead of red tomatoes I used my husband's crop of fresh orange cherries. I did add garlic but if this is optional if you don't like the strong taste of garlic. Enjoy over bread and/or serve over greens to make a lovely salad topping/dressing.
Avocado Tomato Salad with Fresh Mozzarella
2 small avocados, peeled and cubed
1/2 pint of cherry tomatoes, halved
1/2 pound mozzarella balls
3 tablespoons olive oil
6 fresh basil leaves, chopped
2 cloves garlic pressed (optional)
Sea salt and pepper to taste
In medium sized mixing bowl, add peeled and cubed avocados, halved tomatoes, mozzarella balls and fresh basil. Top with garlic (optional) and sea salt and pepper. Mix lightly. Serve immediately with bread and/or use as topping for salad greens.