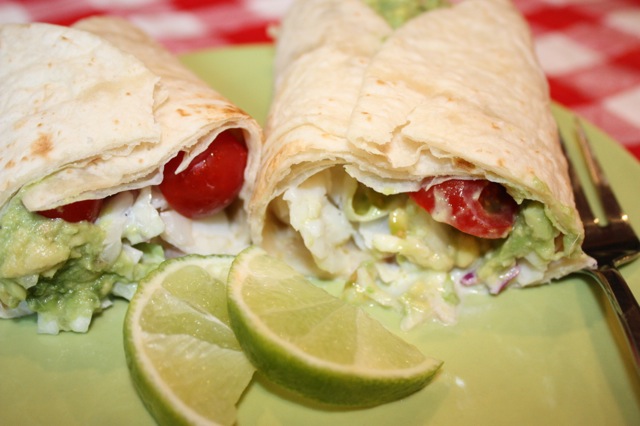 We brought home a haul of halibut from Alaska and have enjoyed it twice now. Last night I decided it was time for fish tacos and found a recipe from Food and Wine. I severely adapted the recipe but it was fun and turned out to be a hit at home. If you can't come across halibut, I've seen recipes calling for red snapper, mahi mahi and cod…all of which would be great.
Fish Tacos with Slaw and Guacamole
2 good sized halibut filets – about 2 pounds  (or red snapper, mahi mahi or cod)
3 tablespoons olive oil
2 large avocadoes
2 whole limes or more
2 tablespoons fresh minced onion
sea salt and pepper
4 cups shredded cabbage
1/2 cup plain whole fat yogurt
2 tablespoons mayonaisse
Sliced grape or cherry tomatoes
4 large flour tortillas
On medium heat in large sauté pan add 5 tablespoons olive oil. Add the filets to the olive oil and fry over medium-low heat, turning fish every 5 minutes until fish is no longer translucent. When fish is nearly done, squeeze lime juice on filets (I re-squeezed wedges I used for guacamole).  Remove the pan from heat and flake fish into bite size pieces.
While fish is cooking, halve, pit and scoop avocados into a small mixing bowl and mash with a fork (or use a small potato masher). Add juice of 1 lime to avocado plus the sliced onion and salt and pepper to taste. Cover and set aside.
In medium mixing bowl put the yogurt, mayonnaise and juice of 1/2 a lime. Mix thoroughly, then add the cabbage, sea salt and pepper and combine well.
For toppings, slice tomatoes and leftover 1/2 lime into wedges.
Heat tortillas in oven. In tortilla layer fish, slaw, guacamole and tomatoes. Squeeze fresh lime and serve. Serves 4.
Source: Adapted from Food and Wine.