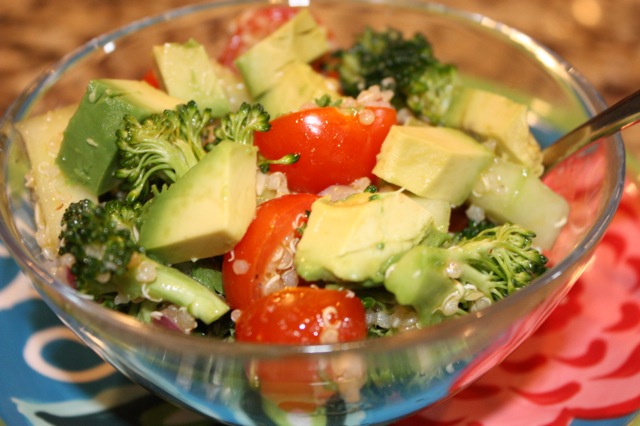 Ah, summer is fun. So fun I haven't been in my kitchen much fixing meals and treats to share on Lingonberry Lane. My daughter was at summer camp last week for 5 nights so myself and 2 other moms with kids going to the same camp went to Cannon Beach for 5 nights. A mom of a 14 year old feels really lucky when as my husband called it today….she gets to go to Mom camp. There weren't many camp fires and s'mores but there was a lot of sleeping in (as late as moms can sleep) and eating out and not cooking and great chats and we watched the whole first season of Downton Abbey! Who knew that a PBS soap opera would be such fun and addicting. Now I have to get my hands on Season 2 before Season 3 starts in the fall.
But on to food, I did manage to make a Quinoa Veggie Salad. It's quick and fresh and you can add whatever veggies and herbs you want to it. If you have a garden of herbs experiment. I adapted this recipe from Bon Appetit's Quinoa Tabbouleh. I added broccoli for a little green vegetable and changed out the scallions for red onions because I had them.
Quinoa Veggie Salad
1 cup quinoa
1/2 tsp salt
2 tablespoons fresh lemon juice
2 garlic cloves, minced
1/2 cup extra virgin olive oil
1 large cucumber, chopped
1 pint cherry tomatoes, cut in half
8 broccoli florets, chopped
1/3 cup fresh parsley, chopped
3 tablespoons red onion, chopped small
sea salt and pepper to taste
avocado
Rinse and cook quinoa in 1 1/2 cups water for 10 minutes covered or until tender. Cool quinoa (easy to cook ahead of time and refrigerate until ready to make salad). In a large mixing bowl add fresh lemon juice and mince or press garlic cloves. Add garlic to lemon juice and whisk in olive oil. Chop cucumber, cut tomatoes in half and chop broccoli. Chop parsley and red onion. Add all vegetables and herbs to dressing and mix well. Add in quinoa and salt and pepper to taste. Serve immediately with sliced avocado on top or refrigerate.
Source: Adapted from Bon Appetit. Serves 4-6.