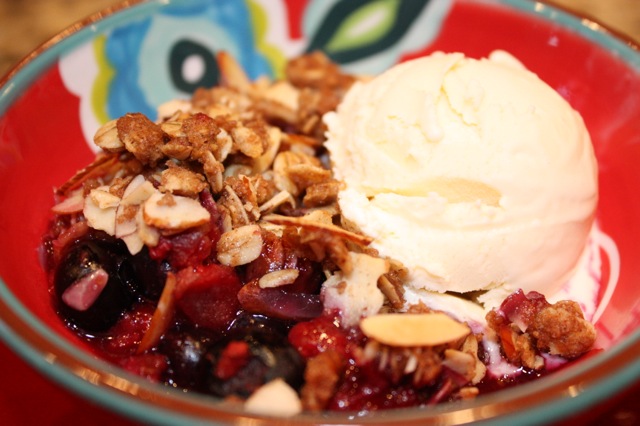 This red, white and blue themed goodie is for those of you who can still bake in your homes this 4th of July. For those of you experiencing high temperatures and humidity, you'll have to wait on making this treat but how about fresh raspberries and blueberries on vanilla ice cream for your 4th of July treat? I bought fresh raspberries and blueberries at a stand yesterday and really wanted to make a crisp because they are always best with fresh berries.
This recipe is adapted from the July/August Whole Living magazine. It is a nice change from my usual crisp recipe using coconut oil, less sugar and almonds. When you top this crisp with ice cream it gives you all the sweet you need and the ice cream accents the tart yummy fresh berries.
Raspberry Blueberry Crisp
For the Topping – in a sauce pan melt coconut oil and combine rest of ingredients (except the almonds), breaking down clumps using pastry blender or fork if necessary. Toast almonds in fry pan on low heat a few minutes and mix into topping.
3 tablespoons coconut oil, melted
1/2 cup old-fashioned rolled oats
1/4 cup whole wheat flour
1/4 cup brown sugar
1 teaspoon cinnamon
2 teaspoons real maple syrup
1 1/2 teaspoon pure vanilla
1 1/2 raw sliced almonds, toasted
For the Filling – combine ingredients in mixing bowl:
6 cups fresh (or frozen) raspberries and blueberries – rinsed
1/2 teaspoon cinnamon
2 tablespoons whole wheat flour or corn starch
2 tablespoons maple syrup
1 teaspoon pure vanilla extract
Grease 8×8 baking pan with coconut oil. Add filling to bottom of pan and topping to finish. Bake at 350 degrees for 40-45 minutes. Serve warm with vanilla ice cream.
Adapted from Whole Living.