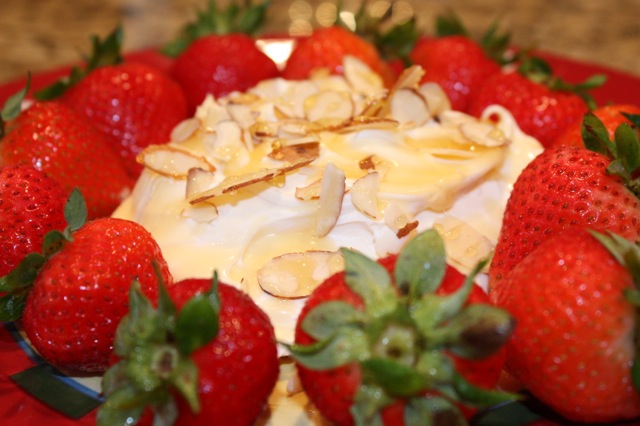 When we first moved into our current home our neighbor for years in our former home brought the most yummy dessert to celebrate our first night in the new home.  It was so simple and pretty and delicious. She brought mascarpone in footed ice cream dishes topped with mixed berries, a squeeze of honey and nuts. I'm emulating that recipe into a sweet hors d'oeuvres for a summer BBQ. The dish is simple but unique in that there are no sweeteners except the drizzle of honey. I served this as a healthy option to s'mores when we had a fire pit party last summer. The 13 year old girls were enjoying the strawberries with mascarpone and asked 'what is this?'. I replied 'mascarpone'. 'Mascar-yummy!' one of them said. And yes, it is Mascar-Yummy!
Honey Almond Mascarpone with Strawberries
one 8 ounce tub of mascarpone
honey – in liquid form to drizzle
sliced almonds
Using spatula remove mascarpone from tub into the middle of serving plate. Drizzle honey on the mascarpone. Sprinkle sliced almonds over the honey. Wash strawberries (or sliced apples, or other fruit of choice) and arrange around the mascarpone. Serve and enjoy.
Source: Adapted from my lovely neighbor's dessert.