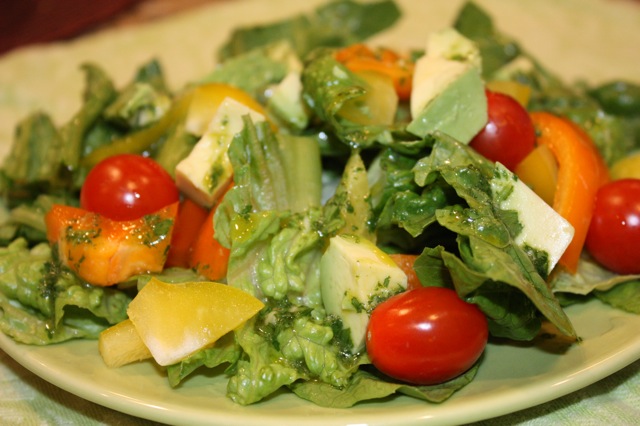 Just in time for a spring celebration or BBQ here is a fresh salad with tangy lime cilantro dressing to spice up a meal with Southwestern flare. This is great served with a Mexican style meal. The dressing is adapted from a very yummy For the Love of Cooking salad.
Fresh Green and Veggie Salad
romaine lettuce, 1 head
cherry tomatoes
orange and yellow pepper
1 avocado
Chop romaine lettuce and add to large salad bowl. Slice orange and yellow peppers and add on top of greens as well as cherry tomatoes. Just before serving cut the avocado and add to salad. Immediately prior to serving, dress the salad with lime cilantro vinaigrette and mix well.
Lime Cilantro Vinaigrette
1 cup chopped cilantro
1/2 cup extra virgin olive oil
4 tbsp or the juice of one lime
2 tbsp apple cider vinegar
sea salt and pepper to taste
2 cloves garlic, minced
Use an immersion blender (or just blender) to blend dressing.  Let flavors mingle at least 30 minutes before serving.
Source: Vinaigrette adapted from For the Love of Cooking.