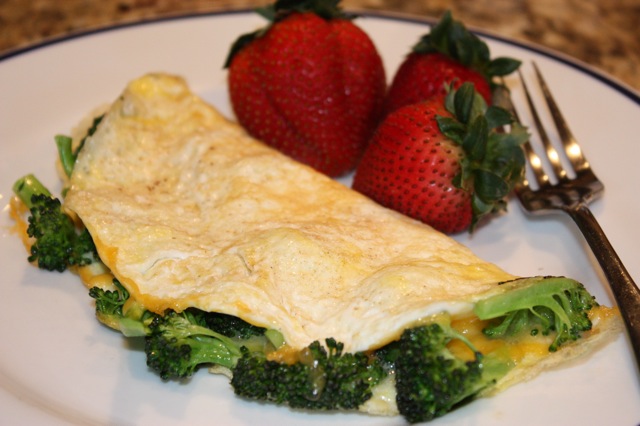 As my daughter was eating her broccoli cheddar omelette some 3 weeks or so ago, she said 'you're going to put this omelette on the blog aren't you? It's so good.' Perhaps the reason it's so good is because I'm liberal with the butter but those words from your 13 year old daughter's mouth are blissful when you're a nutrition nut like me. They are especially welcome knowing that when she started eating the newly served broccoli cheddar omelettes the excitement was minimal. She didn't like having greens in the morning. But isn't there a saying that it takes 21 days to change a habit? Broccoli is wonderfully nutritious – refer to WHFoods for an outline of it's amazing benefits – like 1 cup = 135% of our daily Vitamin C and 115% of Vitamin K and it's excellent for detoxification.  Singing the praises of broccoli! One of the reasons I love broccoli is my mother called it 'gold' just like the Inca's called quinoa gold. So, new this year, the cold cereal boxes rarely come out on school mornings. I must say I could branch out beyond oatmeal and mixed grain hot cereal with heavy cream, cinnamon and raisins, poached eggs and omelettes but it's a start in a higher protein, less processed foods direction. So here you are, the 21 day broccoli cheddar omelette – simple but yummy.
Broccoli Cheddar Omelette
1 pat butter (size of your choice)
handful of broccoli spears (4-5), cut into smaller spears and rinsed
2 good quality eggs
handful of shredded cheddar or cheese of your choice
pepper
Using a small omelette pan, add pat of butter to pan and melt.  Add small rinsed broccoli spears to the pan.  Cook broccoli on low to medium for a few minutes until broccoli is bright green stirring with a spatula a few times to cook evenly. Move broccoli to one half of the pan with spatula. Break eggs into bowl and beat with a fork until blended. Add eggs to the pan and pick up pan and angle it to spread the egg mixture to cover the bottom of the pan. Add handful of cheese on top of eggs and pepper. Cook until the eggs are firm to your personal preference and cheese is melted. With a spatula, take one side of the omelette and fold over to form a half fold traditional omelette. Serve warm. Serves 1.
Options: add mushrooms, red pepper, onions…endless opportunity.
Source: Jackie Mack, Lingonberry Lane