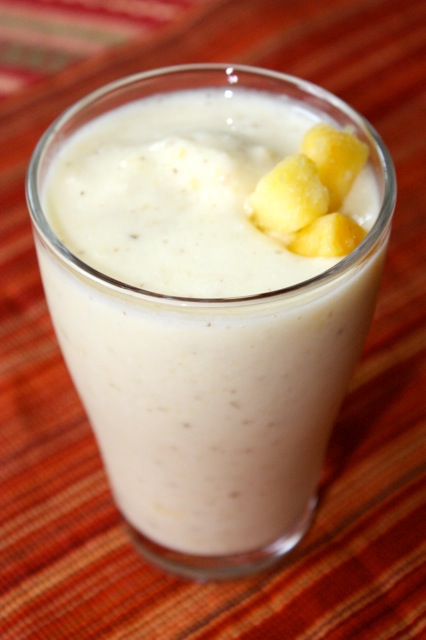 I've been wanting to create a Piña Colada Smoothie for a while now and last week I remembered to pick up frozen pineapple at the store.  So I was armed with the potential ingredients this morning when my daughter was needing a boost of vitamin C  for her immune system while fighting allergies and a bug.  When I asked if the smoothie was refreshing…the feedback I got was 'it's refreshing AND delicious'! Keep this one around for a Cinco de Mayo treat.
Piña Colada Smoothie
1 cup unsweetened coconut milk
1 tablespoon coconut oil
1/2 banana
Optional ingredient:  1 tablespoon Chia Gel (see below for instruction for Chia Gel)
1 1/2 cups frozen pineapple pieces
In blender, mix the first 3 ingredients (and chia seeds) until smooth (coconut oil may freeze in clumps if not blended before frozen pineapple are added). Then add the pineapple. Mix until desired consistency and serve immediately.  Makes 1 large serving.
What are chia seeds?  Check out Dr. Weil's link for more information.  Dr. Andrew Weil's, Chia for Health.  Chia seeds provide Omega 3 fatty acids, antioxidants and fiber all in one tiny package.  To make the gel, add 1 part chia seeds to 9 parts water and refrigerate (I used 1 tbsp Chia/9 tbsp water and refrigerated in airtight container).  Seeds will magically turn into a gel in water.  Add the gel to smoothies.  I bought Chia seeds at New Seasons Market in the spice section.  Check your local health food store for chia.
Benefits of Coconut Oil: Dr. Joseph Mercola, Coconut Oil Benefits When Fat is Good for You
Source: Jackie Mack, Lingonberry Lane; originally posted 4/16/12, updated 5/1/12.