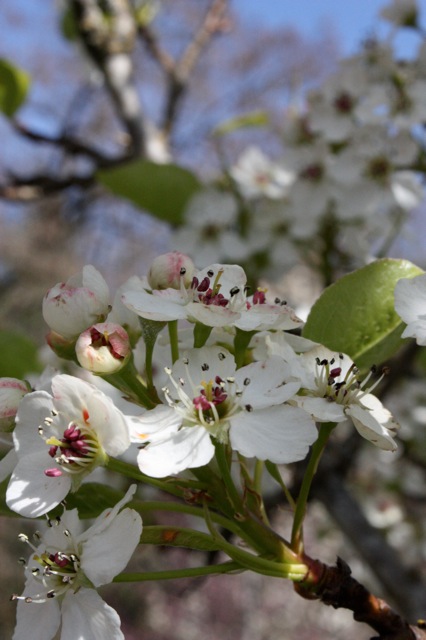 First of all, the gorgeous photo above is not Fried Chicken, it's our flowering pear in the front yard.  On Saturday afternoon last weekend, before her soccer carpool arrived, my daughter grabbed my 'good camera' and went out and took some spring shots in our yard. It's a keeper…maybe even for a frame.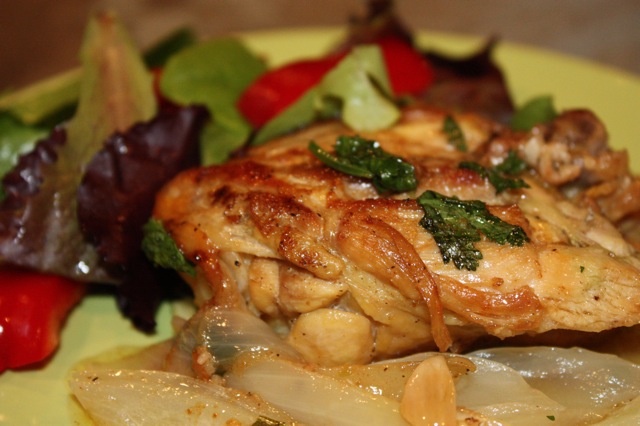 Now, on to the chicken.  I experimented with chicken thighs this week and was happy that the family gave it rave reviews.  I do think to myself, how aren't chicken thighs with skin, bones and all fried in butter just yummy on their own?  All that great flavor from the skin and bones fried and browned really would be a great dinner with just salt and pepper.  But I did add a few more seasonings and cilantro (I recently read that cilantro is a food that detoxifies and we all can use a little of that). So, I'm sharing with you my creation of Fried Chicken with Lime and Cilantro.  It's fall off the bone good.
Fried Chicken with Lime and Cilantro
8 large chicken thighs with skin and bones
2 tablespoons butter
3 cloves garlic, minced or chopped
1 teaspoon cumin
1 large onion
4 tablespoons chopped cilantro
1 lime
sea salt and pepper to taste
In large skillet melt the butter on medium heat and add the chicken thighs skin down.  Add minced garlic to the pan.  Let the chicken sear and once turned over sprinkle a bit of cumin on each thigh and give each thigh a good squeeze of fresh lime juice plus salt and pepper. At about 30 minutes into the cooking, slice the onion into wedges and add all to the pan.  Let the chicken cook (turning every 10 minutes or so) for at least 45 minutes or even longer, turning occasionally while stirring onions, to make sure the thighs are cooked evenly all the way through and are nicely browned.  Just before serving add the cilantro on top. Serve chicken and fried onions with a green salad.  Serve 4.
Source:  Jackie Mack, Lingonberry Lane