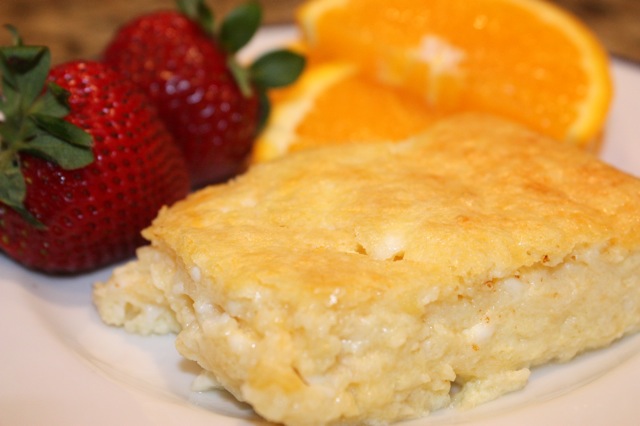 Hopefully, if you celebrate Easter, the bunny is ready to deliver those sparkly baskets in your home. My strongest memory of an Easter basket was when our dear friend Jean brought the Mack kids the biggest basket we'd ever seen chocked full of all different sorts of candies and gifts.  This was amazing to me as a child and I remember one year we got to celebrate Jean's birthday and my brother's birthday on Easter Sunday.  That must have been the year my Mom made the bunny cake with the seven minute frosting that decorations stuck to any which way.  2012 is another year of a birthday and Easter celebration on the same day.
Besides the egg hunts and Easter baskets, celebrations of Passover and spring, we all need an easy egg recipe in our back pocket. Friends of ours who had moved to Colorado years ago gifted us the Colorado Cache Cookbook by The Junior League of Denver. One of my favorite recipes from the cookbook is their Crustless Quiche.  It's quick and easy and turns out every time.  You can change the recipe up a bit to your liking – choose your cheese, add veggies or meat – but here at home, we like it just plain, cheesy and simple. This recipe is great for a brunch or lunch with the ladies or even a family dinner when you want to change things up from the meat and potatoes regimen.  If you're looking for an easy egg dish for Sunday morning, this would be a great choice.  I have made it the night before, refrigerated it and cooked it in the morning.
Cheesy Quiche
1/4 pound butter or 1 stick
1/2 cup whole wheat pastry flour
6 large eggs
1 cup milk
2 cups shredded cheese of your choice
2 cups cottage cheese
1 teaspoon baking powder
1/2 teaspoon sea salt
Preheat oven to 350 degrees.  Melt butter in a small saucepan, add the flour and mix thoroughly until smooth.  In another large bowl, beat the eggs, add the milk, shredded cheese and cottage cheese, baking powder and salt and combine. Mix in the butter/flour with the eggs. When well blended pour all into a buttered 9×13 inch pan.  Bake uncovered for 45-50 minutes at 350 degrees.  Serve warm.
Options: Serve with guacamole and salsa or green onions and tomatoes on top.
Source: Adapted from the Colorado Cache Cookbook and the Junior League of Denver