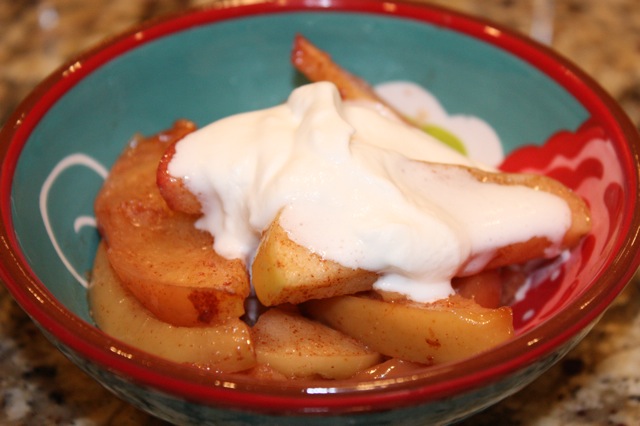 I'm always searching for desserts that will satisfy a sweet tooth and provide good nutrition at the same time. Last year I took a hiatus from processed sugars and baked apples with butter and cream were a transition dessert. They provided the naturally sweetened apple juices with rich butter and cinnamon. Given this winning combination, no added sugars are necessary.  If you top the apples off with real whipping cream for more rich flavor the dessert is quite satisfying.  I can honestly say when eating these baked apples with cream, I don't miss the sugar.  The goodness of real cream and good old fashioned apples combine for a lovely winter dessert in the post Spring Break rainy season.
Buttery Baked Apples with Cinnamon and Cream
3 large apples of your choice
2 tablespoons fresh lemon juice
4 tablespoons butter
1/2 teaspoon cinnamon
8 oz heavy cream
1 tsp vanilla
Preheat oven to 350 degrees.  Slice 3 apples and mix them in a bowl with the fresh lemon juice. Melt butter in a small pan on low heat. Add cinnamon to butter and combine. Pour butter mixture over lemony apples and mix well. Pour apples into 8×8 glass baking dish. Bake apples for 45-50 minutes or until golden brown and apples are soft.  Mix apples at least 3 times during baking to keep the apples moistened with butter/apple juices.
Beat heavy cream with electric mixer until formed into creamy peaks and add vanilla.  Serve apples warm topped with whipping cream.  Serves at least 4.
Option:  These apples and cream are also excellent served on top of an oatmeal or hot cereal for an early morning treat.
Source:  Jackie Mack, Lingonberry Lane