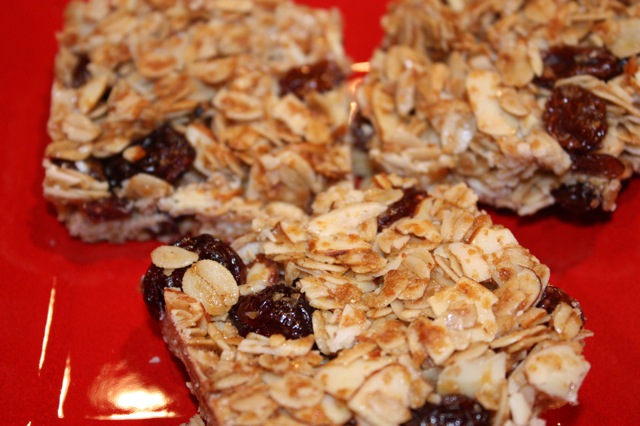 I'm thinking about Spring Break and the old fashioned trip we're taking to the mountains far far away.  We'll pack the SUV to the gills with ski and snowboard gear piled high and a little cooler and more clothing than we need.  I'll have at least 3 jackets because I never want to get cold on the slopes and big boots and chains for the car, just in case.  (We're from Oregon, we never want to get caught without chains in the car on the mountain, it's the law…) So, Spring Break, and a long car ride equals a healthy snack to get us by that doesn't come out of a package.
This blogging habit is good for me as this was another first making granola bars and I'm not sure what took me so long – easy!  I found a recipe that Deb at Smitten Kitchen had made and I adapted it.  I didn't have any shredded coconut in the house but I have lots of coconut oil and given it's such a healthy saturated fat I wanted to get that flavor of good oil in there.  So I put in less honey and dried fruit and added coconut oil.  I was actually thinking I may just get granola out of my granola bar experiment but the directions said to cool for 2 to 3 hours and the bars did actually turn into bars and stick together after at least 2 hours.  The family gave the granola bars a thumbs up.
Cranberry Raisin Granola Bars
2 cups rolled oats
1 1/4 cups sliced almonds
1/2 cup toasted wheat germ (this comes toasted in the jar – check the label)
1/3 cup honey
1/3 cup coconut oil
1 1/2 teaspoons pure vanilla extract
1/4 teaspoon sea salt
1 cup dried fruit (cranberries, raisins, currants, apricots or mangos sliced, any dried fruit)
Preheat the oven to 350 degrees.  In a 9×13 baking pan add the oatmeal and almonds.  Bake the oatmeal and almonds for 10 minutes to 'toast', stirring occasionally, until lightly browned.  Remove mixture from oven and turn your oven down to 300 degrees.
If you have an glass oven safe mixing bowl add the honey and coconut oil to the glass bowl and put in the oven at the same time as the oats and almonds.  When the honey and coconut oil are melted, remove from the oven.  If your mixing bowl isn't oven safe you can melt the honey and oil on the stovetop.
In your mixing bowl combine the melted honey/oil and oatmeal/almonds.  Add wheat germ, vanilla and salt and throughly combine until mixture is nicely coated.   Then mix in your dried fruit combination.
Grease your 9 x 13 pan with butter using a spatula (because the pan is hot!) and pour your granola into the pan (when this is complete make sure you lick your spoon, I did.).  Press granola firmly and pat down flat with a silicon spatula.
Bake the granola bars for 25 minutes until golden brown.  VERY IMPORTANT:  Cool for 2 to 3 hours.  They will not be a chewy granola bar right out of the oven, they must set.  After cutting, store the bars in an airtight container.  The bars can also be frozen.
Source:  Adapted from Smitten Kitchen.