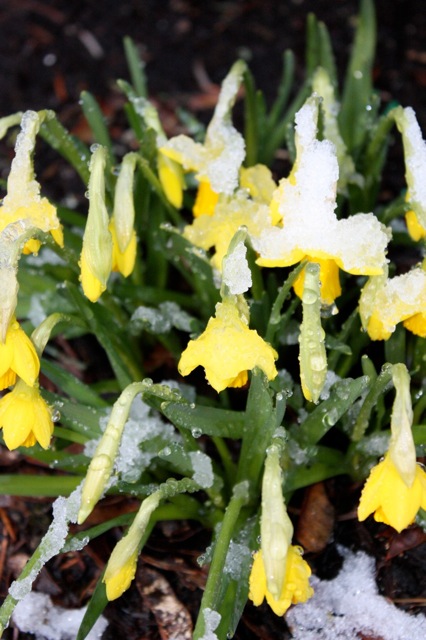 A tiny bit of wintery weather has arrived with 2 beautiful peaceful whitish mornings.  The white is gone by the mid-day.  This is winter Portland style.  There have been years when just the arrival of flakes from the sky have shut the city down but maybe we're getting tough in the foothills….school starts without a hitch and we enjoy the glimpse and peaceful white blanket for a few hours.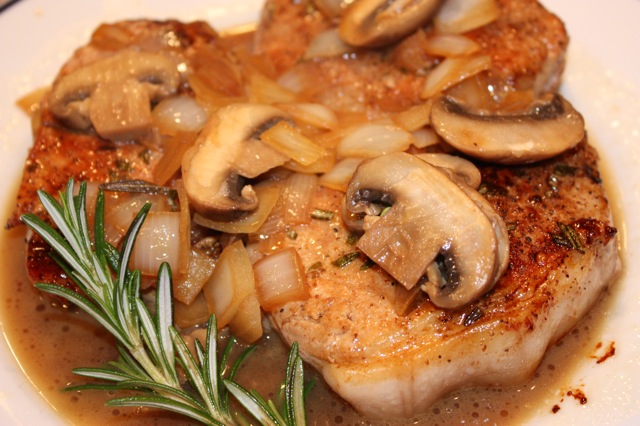 I'm sharing a recipe I adapted from Food.com by KL Boyle.  I am lucky to have a few hearty rosemary shrubs in the front yard to flavor the recipe.  I used what I had in the house for the broth (chicken) and added mushrooms because mushrooms fried in butter and pork drippings just sounded scrumptious.  My family and I thought this was a very tasty pork recipe.  I served the pork with steamed sweet potatoes and the combination of flavors was complimentary.
Savory Pork Chops and Mushrooms
4 pork chops
1/2 teaspoon salt or to taste
1/2 teaspoon pepper or to taste
1 tablespoon fresh rosemary, finely chopped (or 1 teaspoon dried)
2 tablespoons butter (for cooking pork chops)
1/2 sweet onion, sliced
1 cup chicken broth
2 tablespoons butter (for broth)
6 or more sliced mushrooms
Season pork chops with rosemary, salt and pepper.  Heat butter in skillet and add the pork chops to cook through, browning the chops nicely.  Make sure they are cooked thoroughly. Remove the chops and set aside on a platter, covering to keep them warm.  Add sliced onions and mushrooms to the pan and saute until they are soft.  Add the chicken broth and scrape the pan for pork drippings to flavor the broth.  On at least medium heat, let broth reduce to about 1/2 about 5 minutes.  Melt the last 2 tablespoons butter into the broth.  Pour broth with onions and mushrooms over chops on the serving platter.  Serve immediately.
Source:  Adapted from Food.com, KL Boyle.