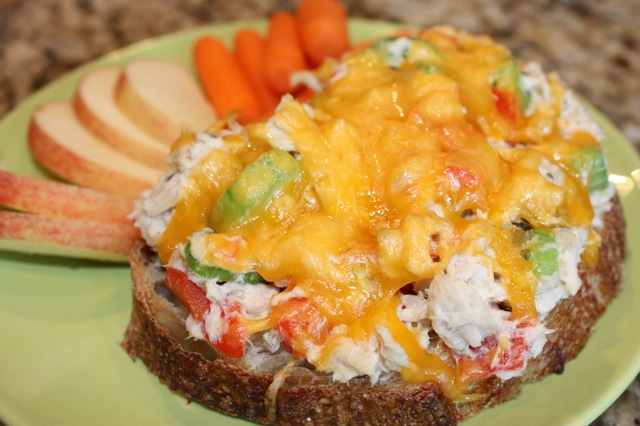 Tuna Melts are somehow a comfort food for me. I don't recall having an excess of tuna melts growing up but maybe it's that melted cheddar cheese combined with the tangy tuna on the crusty sourdough that is comforting. And for the cook, when you're running short of time and have tuna and the fixings in the fridge, this is an excellent quick easy lunch or dinner to prepare. You can just add a salad or veggies and fruit on the side and you have a meal. Sometimes it's about comfort and efficiency, isn't it?
An excellent add is guacamole to eat either on the side or on the tuna melt.  I tried thinly sliced avocados under the cheddar cheese and this was a great add. One note, if you care how the presentation is, a perfect avocado turned slightly brown while broiling but it tasted great. When I don't have to take a photo of my food, I'll add the avocado for the healthy fats and the flavor.
 Tuna Melt
2 – 7 ounce cans white albacore tuna
1/3 cup plain yogurt
1/4 cup mayonnaise
1/3 cup sweet relish
3-4 stalks celery, chopped
1/2 red pepper, chopped
lemon pepper to taste
cheddar cheese, grated or sliced, or your cheese of choice
crusty sourdough bread loaf, or your bread of choice
Option: Avocado slices, guacamole
In mixing bowl, flake tuna with a fork. Add the yogurt, mayo and sweet relish to the tuna and mix well. Chop celery and red pepper and mix in. Add lemon pepper to taste and refrigerate if not serving immediately.
Cut slices of bread and arrange on a baking sheet. Add tuna mixture to the top of the bread, (option, add avocado slices) then add cheese on top of tuna.
Broil sandwiches in the middle of the oven for about 3-4 minutes, watching to make sure they don't overcook. Remove when cheese is nicely melted and sandwich is warm.  Serve immediately.
Makes about 4 good sized tuna melts.
Source: Jackie Mack, Lingonberry Lane