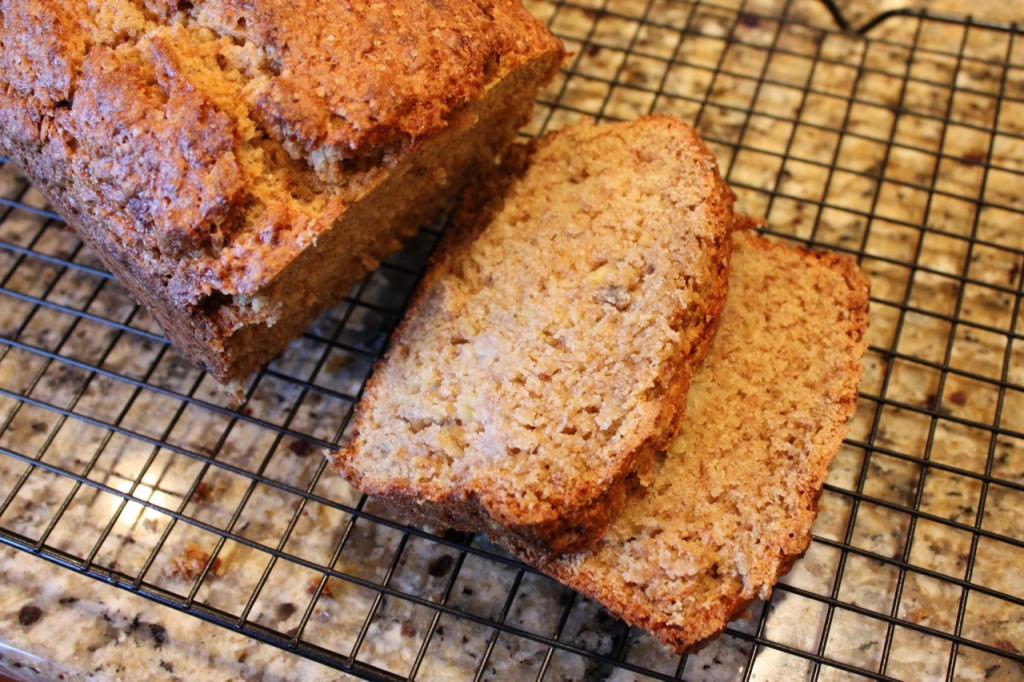 My family gets excited when they smell something baking in the oven.  I've been trying to eat less sugar in the last year so it's not often the wonderful aroma of baked goods are wafting from our kitchen.  My daughter did a fair amount of baking during the holidays this year from Grandma's yummy rolls recipe to ginger cookies she makes with her dad and chocolate chip cookies for the cousins that came to visit.  When I noted a surplus of bananas in the house I knew it was a perfect time to dive into the tried and true Better Homes and Gardens cookbook to get the dough mixing.  I have made this recipe many times over the years and if you're not concerned with a little added sugar in your life I'd recommend the Streusel-Nut Topping (see Better Homes link above).  I didn't add the topping or the nuts (only because my family are purists and don't like nuts in their bread) and adapted the recipe with whole wheat flour and raw cane sugar for a heartier version and increased the spices, as I love banana bread with lots of flavor.  But, I think the real secret to a good rich banana bread is using melted butter instead of cooking oil.
Hearty Banana Bread
2 cups whole wheat flour (or all purpose)
1 1/2 teaspoons baking powder
1/2 teaspoon baking soda
1/2 teaspoon ground cinnamon
1/4 teaspoon ground nutmeg
2 beaten eggs
1 1/2 cups mashed bananas (or 4 medium)
1 cup raw cane sugar (or white sugar)
1/2 cup melted butter
Preheat oven to 350.  In large mixing bowl, combine the flour, baking powder and soda and spices together.  Beat the eggs in a small bowl with a fork and add to dry ingredients.  Mash or cut bananas with a knife and add bananas to mixing bowl (bananas will be chunky in bread if you cut them – I like this in a banana bread).  Add sugar and melted butter to the rest of ingredients and mix until well blended.  Grease large bread pan with butter.  Pour batter into pan and bake at 350 degrees for 55-60 minutes or until toothpick in center of bread comes out clean.    Remove bread from oven, wait about 10 minutes and remove bread to cooling rack.
Make sure to taste bread warm because that's when it's the best!
Bundt Baking option: Pour batter in bundt pan greased with butter and bake for 45 minutes. Cool for 10 minutes and then invert bread onto cooling rack. I find the bread bakes more even in a bundt pan.