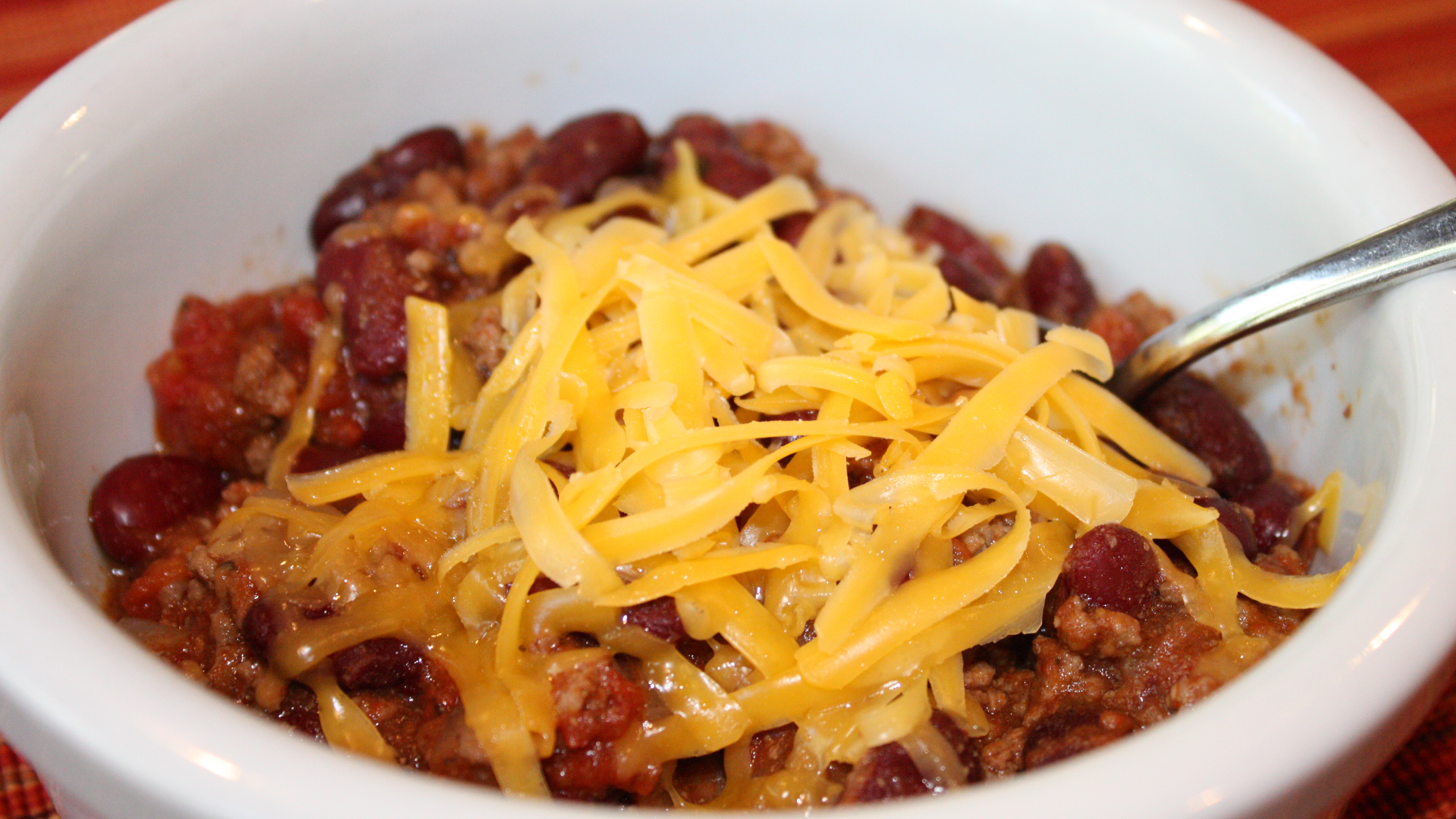 The big weekend is upon us when the Patriots and the Giants face off once again.  OK, that's about all I know about the Super Bowl this year.  And, this is the first Super Bowl in a LONG time that we won't be watching.  My daughter has a 12 hour volleyball tournament on this Sunday and as she posted her dismay to the timing on Facebook, her meaning was it is truly un-American to have a 12 hour volleyball tournament scheduled on Super Bowl Sunday!
So I made the chili a few days early this year and we'll just pretend on Sunday as we're holed up w/100's of other families (mostly Moms, I'm sure) at a recreation center with lots of purple and white pride going on and lamenting over the food we're missing from those Super Bowl parties we missed throwing or attending.
This chili is one that is an adaptation from chili my sister-in-law made for us many years ago.  I loved the sweet taste with the tang of Worcestershire sauce.  So I made a few changes and here is a standard simple chili recipe for the big game.  Topping such as shredded cheese, sour cream and green onions just add to the flavor and enjoyment.
Super Bowl of Chili
1 pound hamburger
2 tablespoons olive oil
1 onion, chopped
3 cloves garlic, minced
1 – 28 ounce can diced tomatoes with liquid
1 – 15 ounce can diced tomatoes with liquid
2 – 15 ounce cans red kidney beans, drained and rinsed
1 tablespoon Worcestershire sauce
2 tablespoons maple syrup
2 tablespoons chili powder or to taste
1 tablespoon cumin or to taste
1/4-1/2 cup red wine
sea salt and pepper
In large stockpot, saute hamburger and chopped onion and garlic in olive oil on medium heat.  Cook until hamburger is no longer pink and crumble meat as it cooks.  Drain liquid from meat.  Return stockpot to heat and add both cans of tomatoes and drained and rinsed kidney beans.  Add remaining ingredients to sauce and mix thoroughly.  Cover and simmer on low to medium heat for at least an hour.
Serve with your choice of shredded cheese, sour cream, avocado slices, or onions.  Serves 4-6.