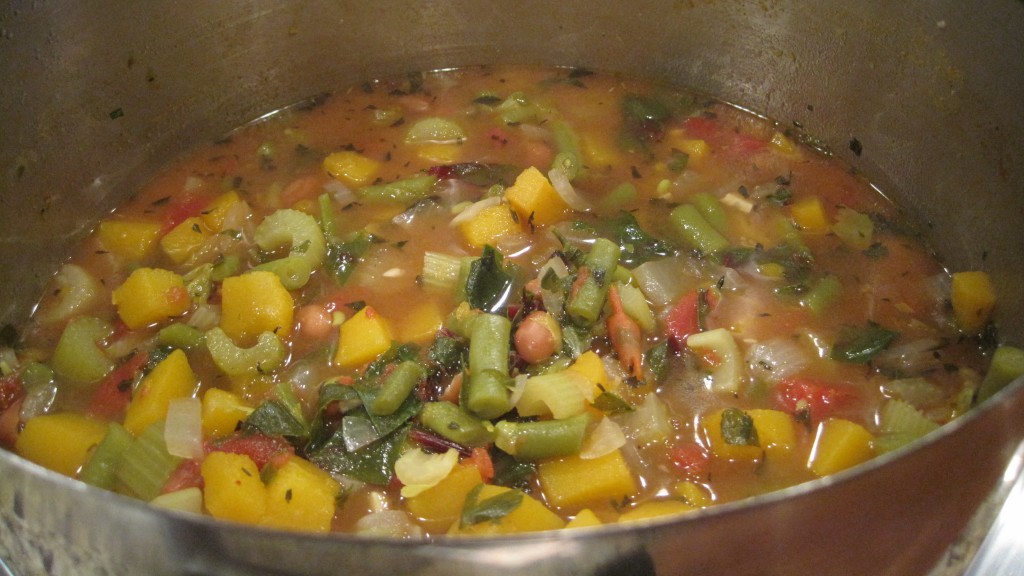 When it rains and rains in Portland it's dreary and it sure does the body and soul good to sit down to a warm homemade soup for dinner.  The soup I am sharing was loosely adapted from Alton Brown's Garden Vegetable Soup.  I had a butternut squash in stock so I used that instead of potatoes and I felt by using the whole squash I probably had enough Vitamin A in there so I left out the carrots, too.  All in all, I took out a few items and added a few spices, and changed amounts.  That's' what I love about cooking a soup or sauce – it's flexible!  Try your own variations, it can be really fun to get creative.
Winter Vegetable & Bean Soup
4 tablespoons, olive oil
2 cups chopped leeks, white part only
4 cloves minced garlic
1 butternut squash, peeled, cleaned and chopped into bite size pieces
2 cups of green beans, cut into 1/2 inch pieces (can be frozen)
2 quarts chicken or vegetable broth (I used on of each)
1 – 14 1/2 ounce can of fire-roasted, diced tomatoes (or just diced tomatoes)
1 cup fresh, chopped, parsley leaves or 2 tablespoons dried (I had fresh on hand)
2 tablespoons lemon juice
4 bay leaves
2 tablespoons dried basil
2 tablespoons dried thyme
2 – 15 ounce ounce cans pinto beans or any bean of your choice, rinsed and drained
2 cups chopped beet greens or fresh spinach
Sea salt and pepper to taste
Heat the olive oil in a large stockpot over medium to low heat.  Add the leeks and garlic and a dash of salt and cook until softened but not brown.  Add the squash and green beans and continue to cook for 5 more minutes, stirring occasionally. Add the stock, turn to high heat and bring to a simmer.  Once simmering, add the tomatoes, parsley, lemon juice, bay leaves, basil, parsley and thyme.  Simmer 1-1.5 hours. Add the beet greens or spinach just before serving.  Season to taste with sea salt and pepper.  Remove bay leaves and serve.