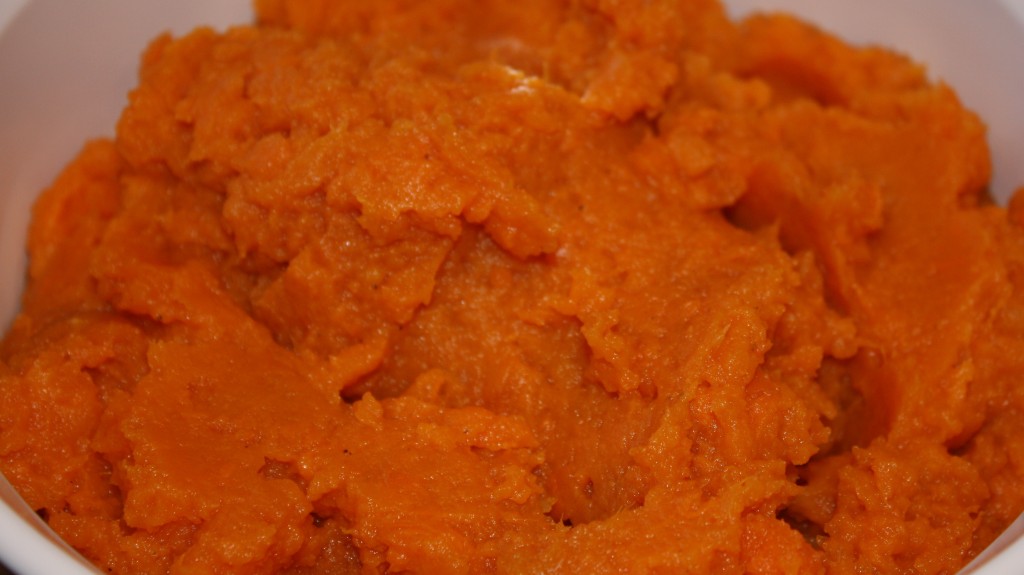 Steamed Mashed Yams is a seemingly simple recipe with very few ingredients.  But, I find every time I make this recipe it is simply delicious and worth sharing.   I would say the inspiration for my mashed yams was from my mother-in-law who would make mashed squash with butter for special meals.   The mashed squash was always a hit and the add of butter and salt and pepper brings out the true flavor of the root vegetable.   I do make mashed squash on occasion but my favorite is the yams.  I steam them, then peel, mash, add butter salt and pepper and they're ready to serve.  This is a dish for a warm winter meal that is a great make ahead recipe, too.  You can easily warm this in a covered casserole to serve later in the day or even the next day.
A little story of yams in my home and my husband previous distain for them.  My husband is really appreciative of the food I serve overall but a few years back he would always say he didn't like yams when I served them and wouldn't even try them.  Well, I knew he loved his mothers mashed squash.  So, maybe that's why I made mashed yams for the first time?  The hubby asked, 'what is this', and I replied 'squash' to my mashed yams.   He tried them and has loved them ever since.  Who knew a little trickery would get these delicious nutritious tubers down my husbands gullet!
Steamed Mashed Yams
6-8 yams
2 tablespoons butter or to taste
sea salt and pepper
Wash and scrub the yams.  Do not peel (until after cooked).  Cut into 2 inch pieces and cut the ends off.   Place yams into large sauce pan with steamer insert.  If you don't own an insert just use same large sauce pan.  Add 1-2 inches of water on the bottom of pan.  Heat to a boil, reduce heat to about medium and add yams.  Steam in covered pan until yams are soft but not mushy.  Add water if low.  Steam the yams about a 20-25 minutes.    When yams are soft, turn off heat and uncover to cool.  Remove skin from cooled yams and put the yams in a mixing bowl.  Mash the yams with a small potato masher or electric mixer.  Add the butter and salt and pepper and mix.   Transfer to small casserole dish (you can mash in casserole if you don't care about a few yams on the side dish).  Serve immediately or refrigerate to heat in oven later.