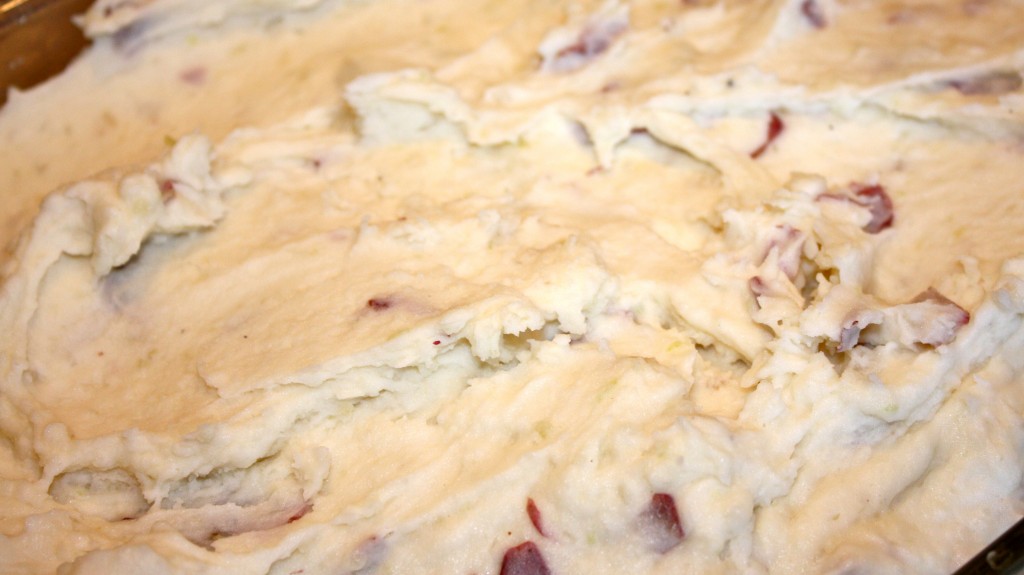 Back in 2009, I noted on the cutout newspaper recipe that this was in the Thanksgiving Food Day special in The Oregonian Food Day  section.   I'm immediately interested in any do ahead recipes for the holidays or special occasion recipes for any time of year that warrants a good creamy mashed potato casserole.  The Oregonian adapted this recipe from 'Thanksgiving 101″ by Rick Rodgers.  I made this recipe on Thanksgiving 2009 and again this year at Christmas.  I would make it for another occasion when making mashed potatoes ahead is a plus, perhaps when entertaining for a mid winter meal.   It is more than delightful to host a group of friends or family and have the dishes made ahead and in the oven.   This is a proven fluffy, creamy potato recipe and a delicious accompaniment to turkey, beef and gravy or a vegetarian meal or any time your family is craving good old fashioned mashed potatoes.
Creamy Make-Ahead Mashed Potatoes
5 pounds baking potatoes (Russet, Idaho or Red as I used)
1 –  8 ounce package cream cheese at room temperature
1 cup sour cream
1/2 cup half and half (or your choice of milk)
1 teaspoon sea salt
1/2 teaspoon pepper
optional – chives, green onions
Fill a large stock pot halfway with cold water.  Peel potatoes (if using Red, you don't need to peel as I did not).  Cut the potatoes into 1 1/2 inch chunks and put them in pot.  Add more cold water to cover the potatoes.  Cover and bring to a full boil, then reduce heat, and set lid on stock pot but to the side to let steam escape.  Boil for about 20 minutes until potatoes are tender but not overcooked.
Drain potatoes (I drained in same pan with lid on tight) so that there is no water left in pot with potatoes.  Add cream cheese to warm potatoes.  Using a hand held mixer, mash the potatoes until the cream cheese melts.  Beat in the sour cream and half and half or milk.  Season with 1 teaspoon salt and pepper.  Transfer potatoes to a buttered 9 x 13 baking dish.  Cool completely.  The potatoes can be prepared up to a day ahead and covered and stored in refrigerator.
When ready to bake, remove potatoes from refrigerator and preheat oven to 375 degrees.  Bake casserole until the potatoes are heated through about 30 to 40 minutes.  Serve hot sprinkled with chives if you choose.