I must have a taste for curried chicken lately as today I decided I must use the coconut milk in my cupboard and of course coconut milk is a natural curry partner.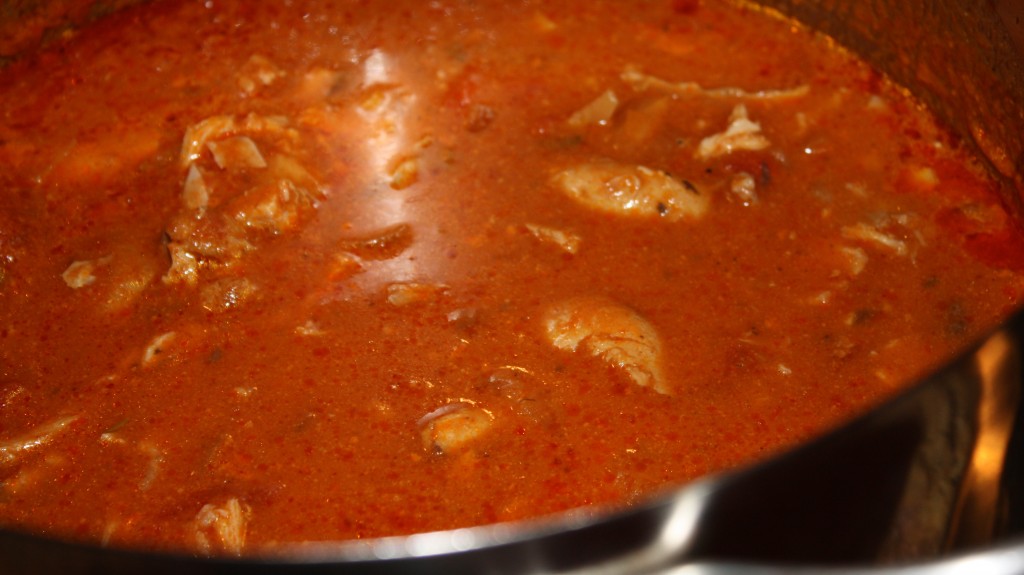 I found this recipe on allrecipes.com submitted by Roma.   It's a good one!  Of course, I adapted the recipe a bit, because that's my nature when making a pot of something. Roma used skinless bones chicken breasts and I used 5 frozen chicken thighs with bones and skin and all.   I like the flavor of the skin and the bones add more minerals to the broth and the flavor is just fantastic!    Roma called for 1 1/2 teaspoons of vegetable oil and I used coconut oil instead.  The other important omission was the sugar.  The curry was fantastic without the added sugar.  There's actually cane sugar in the stewed tomatoes I used.  So there you have it!  A new recipe for the family and a keeper.
Curried Coconut Chicken
2 pounds (or 5 meaty chicken thighs with skin and bones) chicken, chopped if using boneless/skinless
1 teaspoon sea salt and pepper to taste
1 1/2 tablespoons coconut oil
2 tablespoons curry powder
1 small onion, chopped
2 cloves garlic, crushed
1 (14 oz) can coconut milk (I used about 2 cups + a splash extra)
1 (14.5 oz) can stewed, diced tomatoes
1  (8 oz) can tomato sauce
Season chicken pieces with sea salt and pepper.  Heat coconut oil and curry powder in a large stock pot.  Add onions and garlic and seer chicken.  If chicken is cut, stir to coat with curried oil.  Cook chicken in oil for about 10  minutes.
Add stewed tomatoes and tomato sauce.  Continue cooking chicken in sauce until thoroughly cooked through.  I cooked the chicken thighs at least a 30-40 minutes.  When chicken is cooked through, add the coconut milk and simmer another 10 minutes.
If chicken has bone and skin on, remove the pieces from the stock pot and debone.   Cut up chicken in small pieces and return to stock pot.
Serve with your favorite rice and salad or green vegetable.