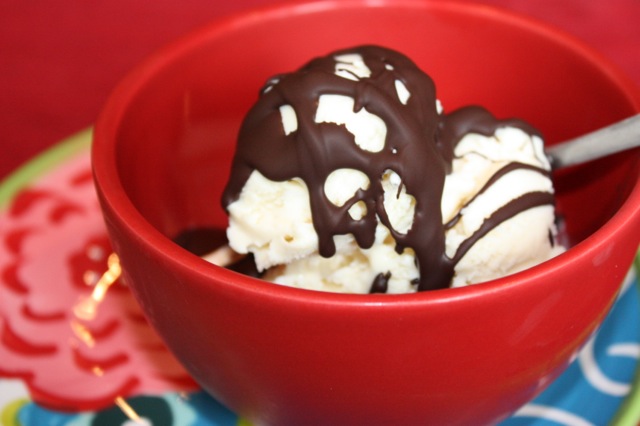 It was Christmas Eve and we were gathered around our kitchen dipping up dessert. I'd made Chocolate Peanut Butter Crispies and they were a hit. I had leftover chocolate from them made from Trader Joe's big hunk of dark chocolate and a dab of coconut oil. I'd heated it up for use on ice cream as an added bonus. My brother served himself some chocolate over ice cream and voilà! The chocolate formed a magic shell. But here's the good news – this is made from good dark chocolate and healthy coconut oil – no preservatives added and two ingredients. It's a real winner and quick to make and if you love dark chocolate like we do (I used 72%). We have dark chocolate on hand and a jar of coconut oil in the pantry. This is not rocket science, you can add a little more or little less coconut oil to the recipe and the kids will love it.
Dark Chocolate Ice Cream Shell
8 ounces 72% dark chocolate
2 tablespoons coconut oil
Melt the dark chocolate and coconut oil on low heat in a small saucepan. Serve immediately over ice cream and watch the magic begin.
Refrigerate leftovers in thick glass bowl and reheat by setting glass bowl in small pan with 1 inch simmering water until melted again.
Source: Jackie Mack, Lingonberry Lane